Southern Spars - From innovation to core manufacturing
Southern Spars is a big name in a small niche.
The Avondale-based manufacturer produces 85% of the world's super yacht masts and half of the world's racing yacht masts – many of which are sailing around Bermuda in the 2017 America's Cup campaign.
Its history stretches back to Sir Peter Blake's round-the-world winning race yacht Steinlager II in 1989.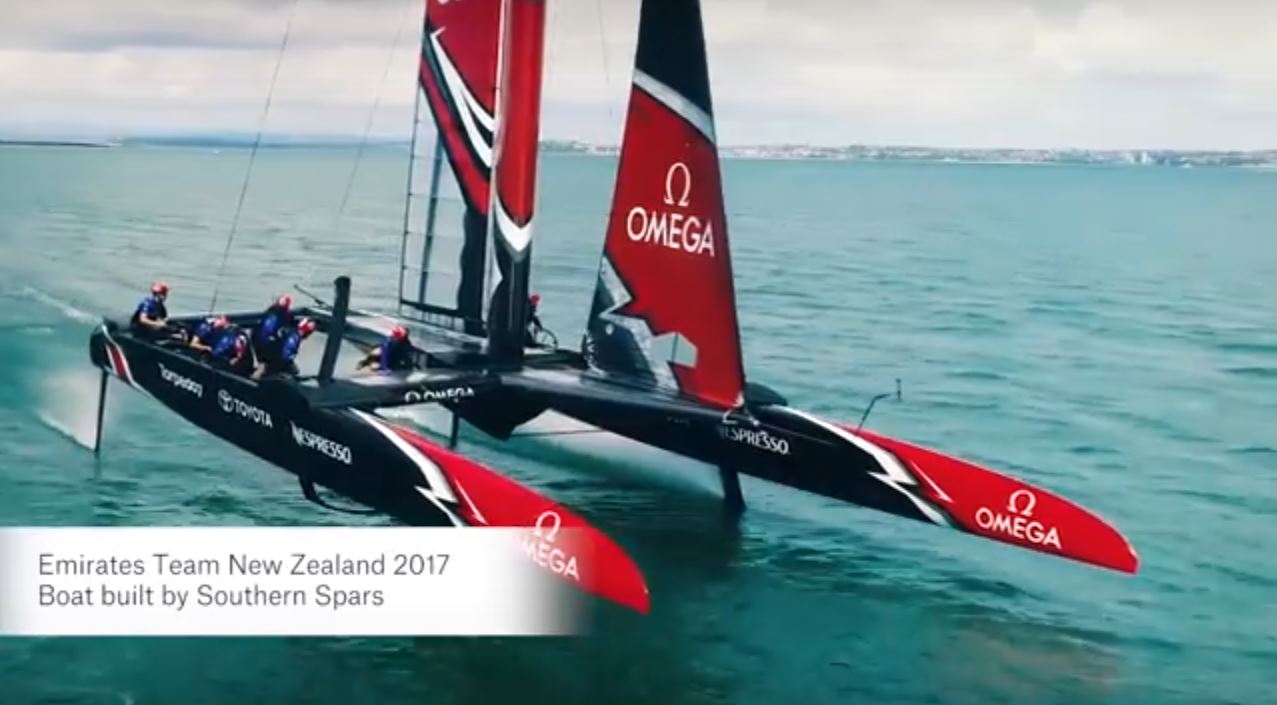 Finding a niche for carbon fibre innovation
General Manager Peter Batcheler says that the business was formed off the back of the America's Cup in the late 1990s after a new and exciting product application of carbon fibre made the previous aluminium masts obsolete.
"Carbon fibre is a sheet product with a single grain that can be layered in multiple different directions then 'cooked' into a specific format like a yacht mast. It is four times stronger than metal and half the weight, so it became the perfect product to use for America's Cup racing.
Batcheler says it was a local inspiration to grow the business around this product and the various America's Cup campaigns. "We had a head start on the innovation, but when we stepped out of innovation mode and into core manufacturing, the rest of the world started to catch up, so we needed critical mass and significant investment to grow a business that we could sustain globally," he says.
"New Zealand businesses that are successful pick a niche, focus on that and do it well. That's what we've done and it's helped us stay ahead of the competition."
New Zealand businesses that are successful pick a niche,
focus on that and do it well.
The original business has since amalgamated with North Technology Group (North Sails) and rigging manufacturer Future Fibres Ltd to produce a total offering that is regarded as the best in the world. Batcheler says that the IP and technology transfer between the companies following the amalgamation has allowed them to capitalize on the various niche expertise to create a single solution that delivers the most reliable and high-performing masts on the planet.
Creating the environment for innovation
Batcheler says that Southern Spars has an unwritten rule around creating an environment that allows its people to innovate on the job.
"It's a fine balance between pushing our team towards efficiency of design but also allowing head-room for free-thinking," he says. "So long as people are working in a logical and sequential fashion, inspiration can come at any time, unplanned, just by joining the dots.
"Many of our sales people come out of an elite sporting environment so they are competitive by nature: they are always thinking about what else we can do with a product, who else we can beat and how," he says.
This process is what led Southern Spars to innovate the world's fastest lap wheel for the New Zealand Olympic cycling team in 2016, transporting Kiwi cyclists to six Olympic and world championship medals.
Helping more New Zealanders reach the winners podium
"Our designers cut the existing aerodynamic wheel in half, and knew straight away they could make it a lot lighter and more rigid than the wheels in current use.
"The thin layering technique we use to create our masts was simply transitioned to cycling wheels – and we got it right first time," he says.
Now Southern Spars is tapping into its innovative genius to give more New Zealand athletes a shot at the winners' podium by taking their cutting-edge technology in new directions. "We could really look at any sporting equipment that could be made from lightweight, strong and reliable carbon, and apply our design and construction expertise to it to create a winner.
"We Kiwis think a little differently from the rest of the world, and we have a real sporting 'aggression' I suppose - which means we hate losing and love winning. We try to encourage that kind of enthusiasm and ethos in our staff, which - when backed by significant investment backing and the innovative thinking we are doing – seems to produce a winning formula."
Suncorp New Zealand would like to thank Southern Spars for sharing their story.
The information in this article has been compiled from various sources and is intended to be factual information only. It is not personal advice and any description of an insurance product or service is not a complete description of all the terms and conditions applicable to the particular insurance product or service. You should consult a qualified adviser for advice on whether the information in this article is suitable for your personal situation and needs. While we take reasonable steps to ensure that the information contained in this article is accurate and up-to-date, it is subject to change without notice. Suncorp New Zealand and its related companies does/do not accept any responsibility or liability in connection with your use of or reliance on this article.